Full term baby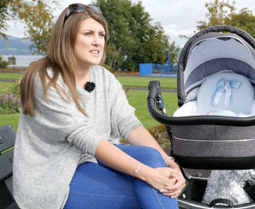 Introduction
In this video, we are introduced to Gemma and her third baby, 7-week-old Thomas.
Gemma discusses some of the challenges of managing a busy life with two other children while being pregnant, and how she coped with increased stress levels during her pregnancy.
Gemma received a baby box when Thomas was born. This Scottish Government initiative aims to give all new babies in Scotland with the best start in life. Gemma's story could provide the basis for a case study of a new mum with a young family.
Key themes

the healthy pregnancy progression
healthy lifestyle choices (for example, food to avoid, alcohol intake, smoking in pregnancy, safe pharmacy and prescription medication)
referrals to other agencies/professionals
stress levels during pregnancy
antenatal classes
birthing plans
feeding options for new babies
baby boxes
Links to further information

These links are not exhaustive and there are other valuable learning resources available.
If you feel there is a link that would be valuable to other learners, please contact us with further information or add to the Childcare Ushare web page